June 23, 2021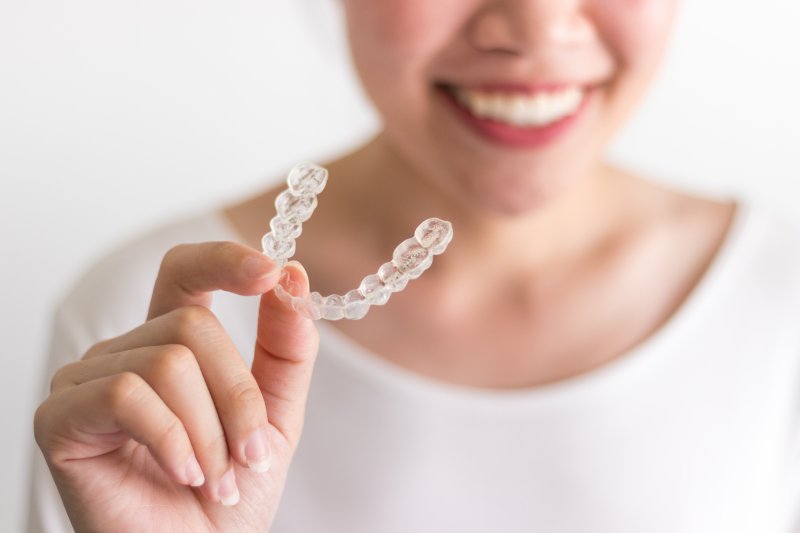 The day has come… you're officially done with Invisalign! After months of switching out your aligners and going to follow-up appointments, you can see your new and improved smile in all its glory. To preserve the beautiful results, your dental team will provide you with a custom retainer, which will hold your teeth in place as they "set." But how long will you wear them following your orthodontic treatment? Keep reading for the answer.
How Long You'll Wear Your Retainer After Invisalign
In the weeks and months following your Invisalign treatment, your teeth need a little extra help settling into place. That's where your custom-made retainers come in! Wearing them for 20 hours a day for the first six months will help keep your teeth nice and straight. After that, your dentist will give you the green light to wearing them solely at night. Once it's been a year, you can transition to wearing them three to five days per week, which you will be expected to do for your lifetime. Neglecting to do so can cause your teeth to shift back into their previous position, leaving you at square one.
4 Tips for Keeping Your Retainer in Pristine Condition
Like your Invisalign trays, your retainers require some care. With this in mind, make sure that you:
Don't use hot water to clean them (this can warp their shape).
Rinse them after removing them from your mouth and before putting them back in.
Don't eat or drink with your retainer in (with the exception of water).
Continue to maintain a solid at-home oral hygiene routine to keep them free of plaque, bacteria, and other debris.
What to Do If You Lose Your Retainer
If you accidentally misplace your retainer, try to stay calm. First, retrace your steps, paying special attention to the small crevices they could've fallen into in your car or on the couch. Once you've confirmed they are lost, get in touch with your dental team. From there, they can get to work on creating a replacement retainer so you can continue to preserve your beautifully straight teeth.
Once you see the beautiful results of your Invisalign treatment, you're going to want them to last for as long as possible. Fortunately, that's exactly what your retainer is designed to do! Just make sure to wear them according to your dentist's instructions to keep your new and improved smile in tip-top shape.
About the Author
After shadowing his wife's stepfather during his junior and senior years of high school, Dr. Chris Johnson decided to pursue dentistry himself! He earned his undergraduate degree at Oklahoma State University before completing his dental doctorate at the Texas A&M College of Dentistry. Now, he spends his days helping patients get the healthy, beautiful smile they deserve. If you are interested in learning more about the Invisalign treatment process or have a question about retainers, don't hesitate to visit his website or give him a call at 713-229-8100.
Comments Off

on Here's How Long You'll Wear Your Retainer After Invisalign Treatment
No Comments
No comments yet.
RSS feed for comments on this post.
Sorry, the comment form is closed at this time.