Invisalign – Houston, TX
Discreetly and Quickly Align Your Teeth
In 1819, Christophe-Francois Delabarre created the first-ever braces. Fortunately, they have advanced significantly since then, starting with the metal brackets and wires we know today and evolving to Invisalign! Now, these state-of-the-art clear aligners can discreetly and quickly align your teeth, making the journey to your new and improved smile as seamless as ever. Schedule your initial consultation with our dentist in Houston, Dr. Johnson, today to take the next step or keep reading to learn more about this incredible cosmetic dentistry solution.
Why Choose Downtown Houston Dental for Invisalign?
Skilled, Caring, Meticulous Dentist
Customized Treatment Plans Designed to Deliver Results
Early Morning Appointments Available
How Invisalign Works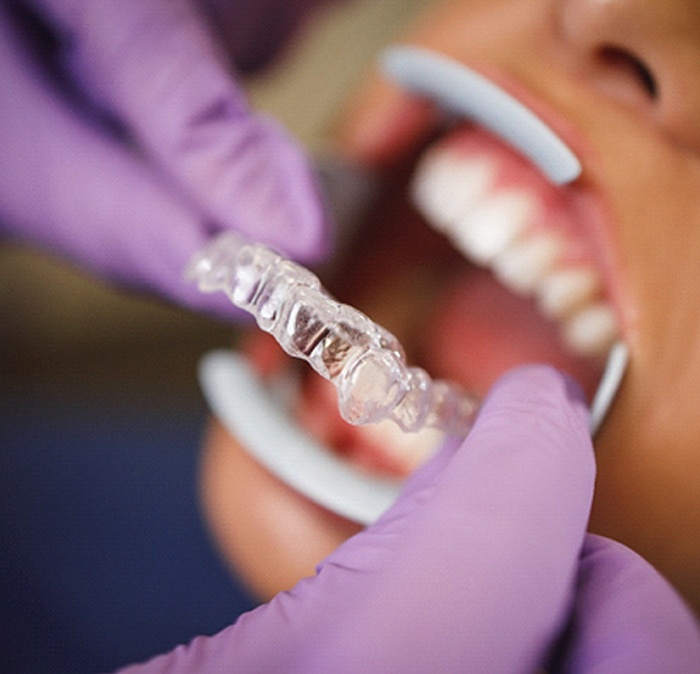 Although the technology behind Invisalign in Houston is incredibly sophisticated, the concept is pretty straightforward. After your dentist creates your custom treatment plan, you will be given your first set of aligners, which will exert just enough pressure to shift your teeth closer to their ideal position. After a few weeks, you'll transition to your next trays, which will pick up where the last ones left off. You will continue this process throughout your treatment, having check-in appointments with your dentist along the way to ensure your teeth are tracking properly. Once you've worked through your entire series of trays, you'll be complete!
Indications for Invisalign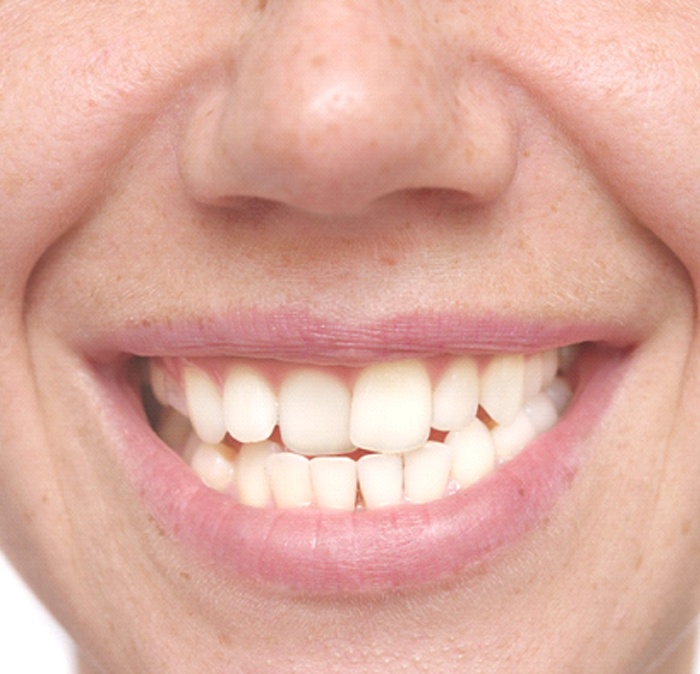 Invisalign is an incredibly versatile orthodontic treatment that can be used for patients struggling with:
Crowded Teeth
If your teeth are overlapping, Invisalign may be the solution you've been looking for! If your dentist in Houston confirms you are a candidate, then the clear aligners can effectively move your teeth into a properly aligned position, providing you with a smile that is healthier and more aesthetically pleasing.
Gaps Between Teeth
Spaces between your teeth can not only take a toll on your self-confidence, but they can also increase your risk of dental problems, like tooth decay and gum disease. Fortunately, Invisalign's clear aligners can bridge the gap, resulting in a healthier, happier smile.
Bite Alignment
Orthodontic issues aren't just limited to crowded and spaced-out teeth. If you struggle with TMJ disorder or teeth grinding, it could be a result of an unhealthy bite. Luckily, Invisalign can address underbites, overbites, and even crossbites!
The Benefits of Invisalign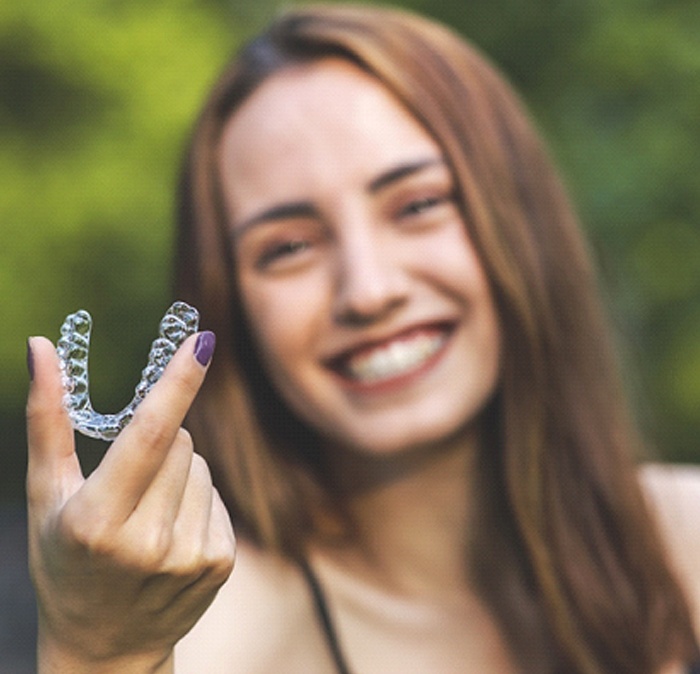 Over the last two decades, Invisalign has continued to be one of the most sought-after treatments. And rightly so! This incredible smile-transforming solution comes with a number of benefits, including:
Speed – While metal braces can take 2+ years to complete, the average treatment timeline with Invisalign is 12 months.
No dietary restrictions – Unlike traditional orthodontics, Invisalign's clear aligners are entirely removable, allowing you to enjoy all of your favorite foods with ease.
Easy maintenance – Another benefit of removable trays is easy oral care. No complicated brushing or flossing techniques are required!
Comfort – Invisalign's clear braces are designed for comfort, minimizing the chances of uncomfortable cuts to your gums or the soft tissue in your mouth.
Discreetness – Since the clear aligners are practically invisible, you can work on your dream smile without calling attention to your treatment!
Understanding the Cost of Invisalign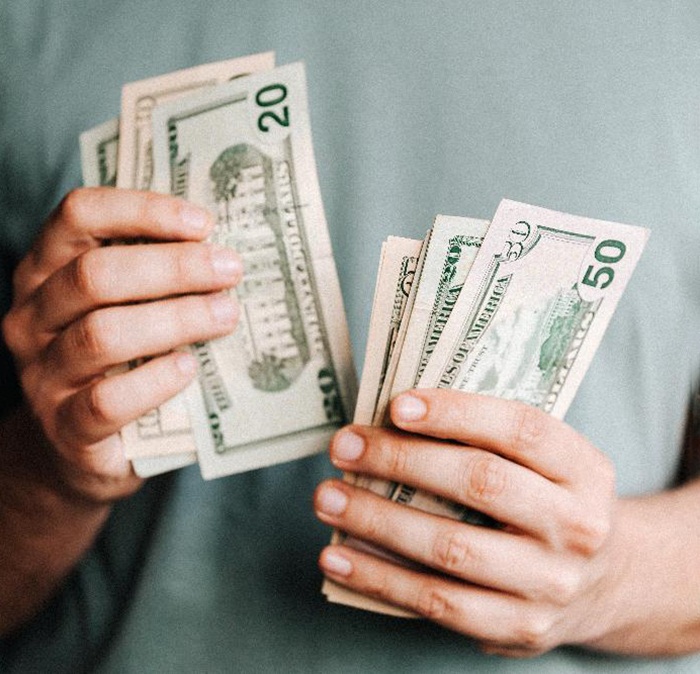 Invisalign may have been costly when it first hit the market, but now it's affordable for people from all walks of life. There's no flat fee for Invisalign because every mouth is as unique as fingerprints. However, Dr. Johnson strives to keep a healthy, straight smile within everyone's budget. He'll create the personalized plan you need to fix your teeth without it costing you an arm or a leg.
Factors That Affect the Cost of Invisalign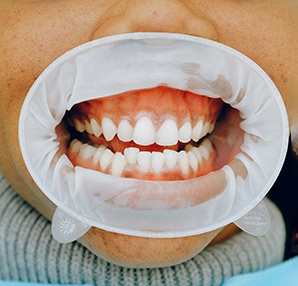 Since every situation differs, many factors will influence the amount you will pay. After examining your mouth, Dr. Johnson will craft a strategy to help you achieve your best smile. While every case differs, you can expect your estimate to include:
Preliminary Treatments: Besides your initial consultation, it's not uncommon to need a little prep work, like filings, a dental cleaning, or gum disease therapy.
The Complexity of Your Case: Major tooth movements will require more aligners to treat, which can increase the cost.
The Number of Arches: Treating both the top and bottom will cost more, but single arch treatment is rare.
A member of our team will explain your estimate, so you know exactly what you'll have to pay before committing to anything.
Invisalign vs. Smile Direct Club™: Which Costs More?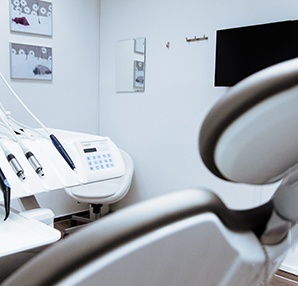 Mail-order aligners are popular, and they claim to provide amazing results. However, what you don't see online is the irreversible damage that can occur because you never see a dentist. Not everyone is a candidate for Invisalign and simple errors with the aligners can lead to big problems. Since you never see a dentist, the issues won't be detected until it's too late. Visiting a dentist for clear aligners is an investment in experience and qualifications that will ensure you achieve your best results. Dr. Johnson will determine if you're a candidate for clear aligners and create your treatment plan. He will also monitor your treatment's progression to spot the slightest concern quickly to keep your smile healthy and beautiful for a lifetime.
Does Dental Insurance Cover Invisalign?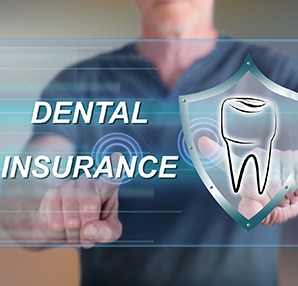 Dental plans that include orthodontics may cover a portion of the cost of Invisalign. Your insurance benefits may pay for your consultation and any imaging or prep work, like a dental cleaning. After meeting your annual deductible, you are given an allowance to use toward the cost of your treatment. A member of our team will work on your behalf with your dental insurance to maximize any appropriate coverage to keep a straight smile within your budget.
Options for Making Invisalign Affordable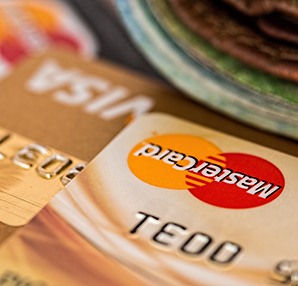 Besides using your dental insurance, our office accepts many payment methods to keep Invisalign affordable, like:
Traditional Payments: We accept all traditional payment options, including cash, personal checks, and credit cards.
Financing: You can pay any out-of-pocket expenses using a monthly payment plan through a third-party financing company, like CareCredit. Based on your credit approval, you can benefit from little or no interest in financing to keep Invisalign affordable.
If you have any questions about your payment options, call our office today at (713) 322-4214.
Invisalign FAQs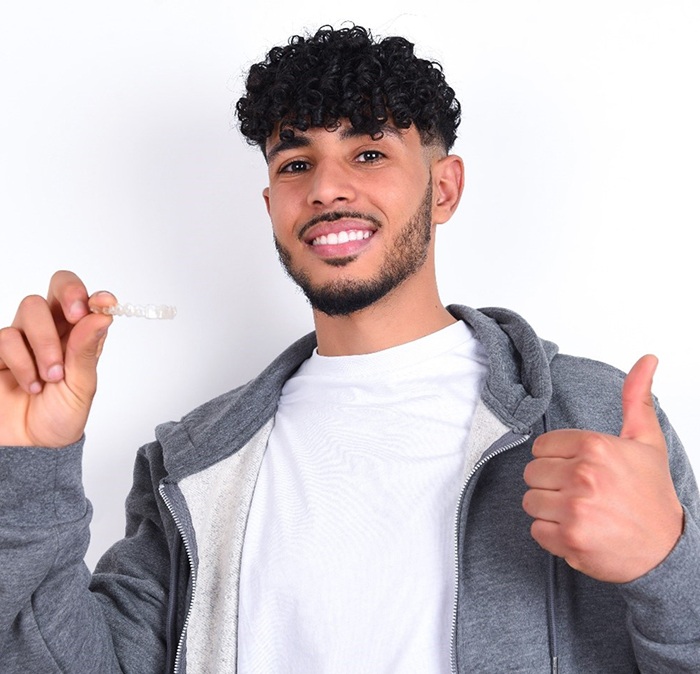 You've been wanting to straighten up your smile for a while, and after considering your options, you're leaning toward Invisalign in Houston. You recognize that it involves some different considerations than traditional braces, so before committing you still have a few questions. That's understandable, so we've compiled some of the questions most often asked by previous patients. If you are still searching for answers after reading through the info below, be sure to contact our staff!
How Long Does Invisalign Take?
It depends. On average, it takes 12-18 months to finish treatment. However, every patient has unique smile circumstances, and several factors affect the amount of time it takes to achieve your desired results, such as the severity of your misalignment and your commitment to the treatment plan. People with mild orthodontic issues can expect to finish up in as soon as six months! If you have a more severe case of dental misalignment, you can expedite the process by visiting your dentist regularly and diligently following treatment instructions.
How Is Invisalign Made?
Invisalign's process utilizes a series of aligners made of smooth, clear plastic. They are custom-made based on digital impressions taken during your consultation at our office. While manufacturing for all the aligners in the series can typically take 3-4 weeks when they are produced in an offsite lab, Dr. Johnson is able to create your aligners at his office location with a 3D printer which will get you on the road to smile improvement much sooner!
Who Is Not Eligible for Invisalign?
Invisalign can be used for almost any patient who has their full set of permanent teeth. This means children as young as 13 years old can take advantage of this treatment. However, there are some important exceptions to keep in mind. For example, severe bite issues often need to be treated with traditional orthodontics instead of clear aligners. Patients who smoke and are unable or unwilling to stop also may not be good candidates for Invisalign. Smoking tobacco not only stains the aligners but also puts one's oral health at risk. To find out if you are a viable candidate, schedule an initial consultation with your cosmetic dentist in Houston.
Who Invented Invisalign?
Invisalign was first created in 1997 by Zia Chishti and Kelsey Wirth in San Jose, California. Believe it or not, Chishti is not an orthodontist or a dentist. Instead, he majored in Computer Science and Economics at Columbia University before attaining his MBA at Stanford University. During his time at Stanford, Chishti was undergoing traditional orthodontic treatment when he was inspired to invent an alternative way to straighten teeth. He worked on the concept of custom clear braces in his dorm room before graduating from Stanford and founding Align Technologies. Since that time, over 10 million people worldwide have benefitted from his invention of Invisalign!
Does Invisalign Hurt?
Are you worried that clear aligner treatment will be painful? Good news: Invisalign is significantly more comfortable than traditional braces – there are no metal brackets or wires! Each tray is custom-made to fit against your teeth snugly without irritating the soft tissue in your mouth. Of course, you may experience some slight discomfort from the pressure of your teeth moving, but this can easily be alleviated with a cold compress or over-the-counter pain reliever.
What Happens After Invisalign?
Once you've completed your Invisalign treatment, our trusted Houston dentist, Dr. Johnson, will provide you with a retainer. This small orthodontic appliance is designed to keep your teeth in their perfectly aligned positions, preventing orthodontic relapse in the process. At the beginning, you may be asked to wear it as much as possible before gradually decreasing to wearing it only at night.
Can You Eat with Invisalign?
Yes! There aren't any dietary restrictions with Invisalign since you can take them out. In the hours following your transition to a new tray, however, you may want to stick to soft foods to prevent soreness. Some examples of meals and snacks that make this list include oatmeal, applesauce, yogurt, and vegetable soup. It's also a good idea to keep your consumption of sugary foods and beverages to a minimum since they increase your chances of developing tooth decay. Of course, the biggest "rule" is that you must always remove your aligners before eating or drinking anything other than water.
How Do I Clean My Invisalign?
Keeping your Invisalign aligners clean is simpler than you may think. All you need to do is use a soft-bristled toothbrush and some water to clean each surface after every meal. Never use harsh cleaners, like bleach, mouthwash, or even toothpaste. If your trays are looking discolored or smell, then you can dissolve the cleaning crystals in some lukewarm water and place them in the mixture for 15 minutes or so.
Does Invisalign Give You a Lisp?
Patients are often worried that Invisalign will give them a lisp. However, it wouldn't be one of the most sought-after teeth straightening solutions if it altered your speaking patterns. In fact, the large majority of patients don't experience any changes at all! If you do have a slight lisp from your clear aligners, then you can have peace of mind knowing it will be temporary. Plus, you can speed up the adjustment period by reading out loud and practicing the more difficult words repeatedly.