February 16, 2022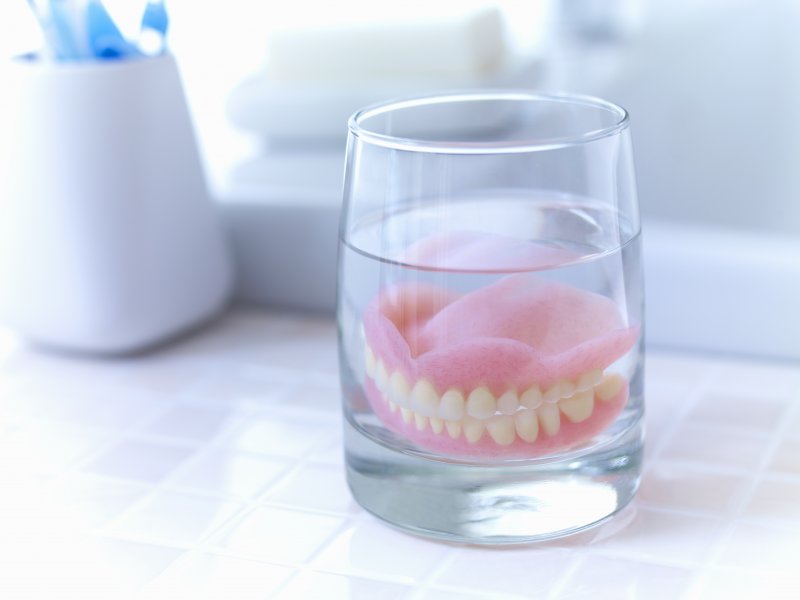 Missing teeth can make it difficult to eat, speak, and smile without struggling or feeling self-conscious. Though there is a multitude of ways you can replace them, dentures are one of the most popular options to fill in one's smile. These life-changing restorations offer numerous benefits, but that doesn't mean that they're immune to damage. Since they aren't your real teeth, you may be wondering if having a broken denture means that you need to make a trip to your emergency dentist. Here's what to do if this happens to you, why dentures break, and how your dentist can fix your restorations.
4 Ways That Dentures Can Become Damaged
Though modern dentures are strong and durable, they can still become damaged by things like:
Accidents – If you get hit in the mouth or accidentally drop your dentures, this could cause them to break.
Bone loss – Though this may not cause your dentures to break, it can make them fit incorrectly, which means they will need to be adjusted or replaced.
Improper use – If you use your restorations to open bottles or packages, to cut your nails, or to chew on ice and other non-food items, this can damage them.
Wear and tear – Though you can expect your dentures to last an average of five to 10 years, wear and tear will eventually mean that you need to have them replaced.
What Should You Do with A Broken Denture?
Now that you know what can lead to a broken denture, what should you do if this happens to you? As soon as your restoration breaks, reach out to your dentist so they can examine them and determine what to do next. Breaking your dentures isn't like threatening, but it's better to have your dentist examine them sooner rather than later. Once you've explained the situation to them, they will be able to help you schedule an appointment.
You can also purchase over-the-counter denture repair kits, but this isn't usually a good idea since you're unlikely to know how to use it properly. Since you may end up accidentally damaging them even further, it's best to let your dentist handle the fixes.
3 Ways to Fix a Broken Denture
Once your dentist has had a chance to examine your restoration, they will be able to determine what the best course of action is. Some ways they may repair a broken denture include:
Reline – If your dentures aren't fitting correctly, which is often the result of bone loss, your dentist may recommend having them relined. This means the underside of your restoration will be reshaped so they fit your gums better.
Replace – A broken denture that's old or damaged beyond repair will likely need to be replaced with a new one.
Dental implants – If you're a good candidate for implant-retained dentures, which use four to eight titanium posts to attach them to your mouth, your dentist may recommend switching.
Breaking your denture can be stressful, but your dentist will be able to help. Call them as soon as the incident occurs so they can get your smile back on track!
About the Author
If you're missing teeth, Downtown Houston Dental offers a range of replacement options to fill in the gaps in your grin. Their life-like dentures are made from a gum-colored acrylic base and are customized to look and function like real teeth. Soon, you'll be talking, laughing, and smiling with confidence! Are you interested in getting more information on dentures or do you want to schedule an appointment with Downtown Houston Dental? If so, visit their website or call their office at (713) 229-8100 to get started.
Comments Off

on Are Broken Dentures a Dental Emergency?
No Comments
No comments yet.
RSS feed for comments on this post.
Sorry, the comment form is closed at this time.