Dental Implants – Houston, TX
The Latest & Greatest Tooth Replacement Solution
Over the last decade, dental implants have become one of the most highly coveted solution to replace missing teeth. They're unique in the fact that they take the best qualities of traditional dentures and bridges and amplify them by supporting them with dental implants from our Houston, TX dentist. This allows them to offer several life-changing benefits along with a completely natural look and feel. To learn more about what dental implants in Houston have to offer you, schedule a consultation with Dr. Johnson today!
Why Choose Downtown Houston Dental for Dental Implants?
Restorations That Can Last 35+ Years
In-Network with Several PPO Insurance Plans
Convenient & Flexible Care for Working Professionals
What are Dental Implants?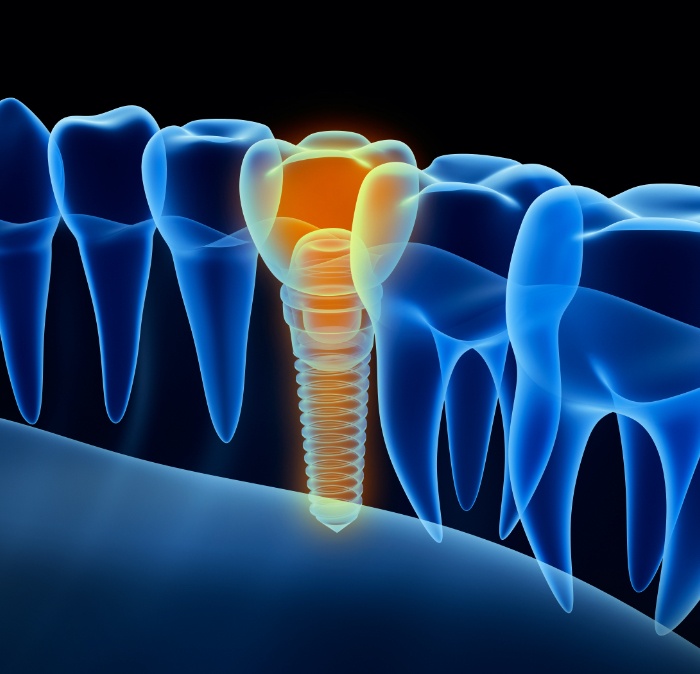 Dental implants themselves are small, titanium posts that are placed beneath your gumline to restore the missing root structure of teeth. They anchor prosthetics like a dental crown, bridge, or denture in place, rebuilding the entire missing tooth from the ground up. Due to titanium's biocompatible nature, implants are able to chemically fuse with the jawbone through a process called osseointegration, providing the area with blood flow and offering added stability and strength to replacement teeth.
The 4-Step Dental Implant Process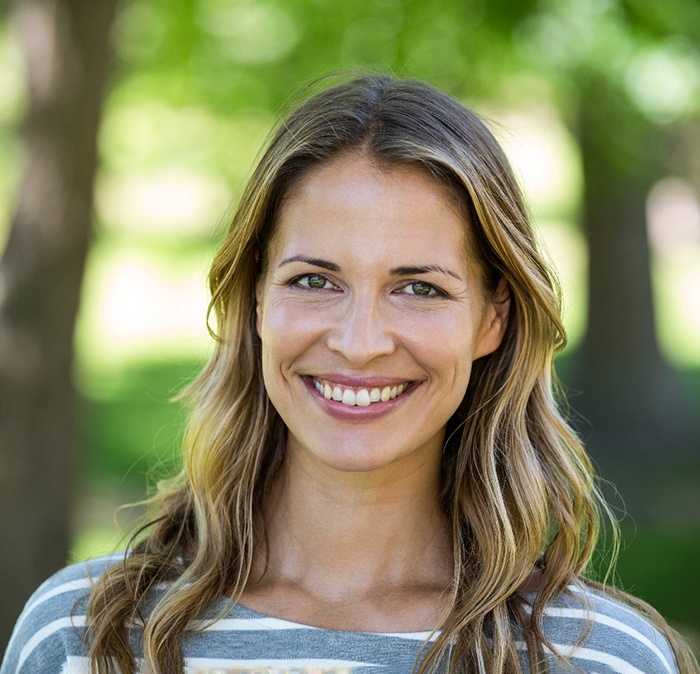 Naturally, you can expect the dental implant process to be personalized according to your needs. However, there are generally four main steps that will be followed: the initial consultation, the surgery, the osseointegration and abutment phase, and the delivery of the final restoration. Here is what will happen during each stage. (If there's anything you're unclear on, don't worry; our team can go into more detail about the process as a whole when you pay our office a visit.)
Initial Dental Implant Consultation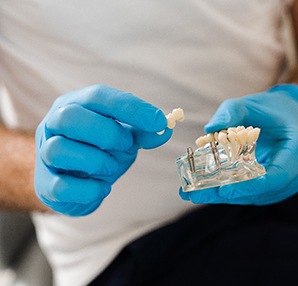 Dental implants may be highly recommended for replacing missing teeth, but are they worth pursuing in your case? That's the question that needs to be answered at your initial dental implant consultation. We'll need to examine your mouth, your jaw, and other relevant structures. Sometimes we may find that you are already a candidate for dental implant surgery; in other cases, though, preparatory work like bone grafting or gum disease therapy may be needed beforehand.
Dental Implant Surgery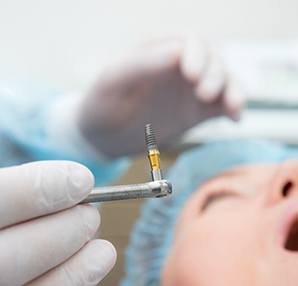 At the start of your dental implant surgery, your mouth will be numbed for the sake of your comfort. Then, once an incision has been made in your gums, a number of holes will be created in specific spots in your jawbone. Dental implant posts will be inserted into each of these holes. Once it's confirmed that the dental implants are where they need to be, the gums will be closed again.
A small round component called a healing cap may be placed on each dental implant post. The purpose of this cap is to make sure that the gum tissue maintains the right shape as it heals.
Dental Implant Osseointegration & Abutment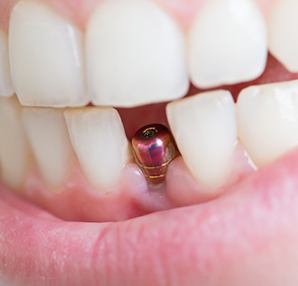 Osseointegration is a critical part of having dental implants placed. In short, it is a natural process where the dental implant posts effectively become part of the jawbone. On average, osseointegration can take around three to six months. To maximize your chances for a successful osseointegration process, be sure to keep the area around your dental implant posts as clean as possible; the last thing you want at this point is for harmful bacteria to cause an infection.
After osseointegration, you'll be ready to receive what's known as an abutment. This is a component that will be used to keep your new crown, bridge, or denture in place. Do keep in mind, though, that abutment placement does involve another surgical procedure, so your gums will need some time to heal afterward (usually around one or two weeks).
Delivery of Dental Implant Restoration(s)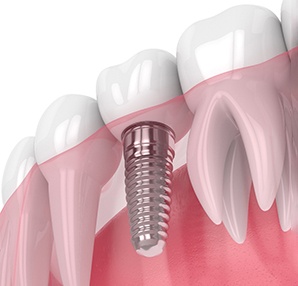 The final restoration will be made specifically for your smile. Impressions will be taken to ensure that your final crown, bridge, or denture is precisely the right size and matches the appearance of your other teeth. When the time comes to anchor the final restoration in place, a few last-minute checks will be made to ensure that there aren't any problems with your new smile.
The Benefits of Dental Implants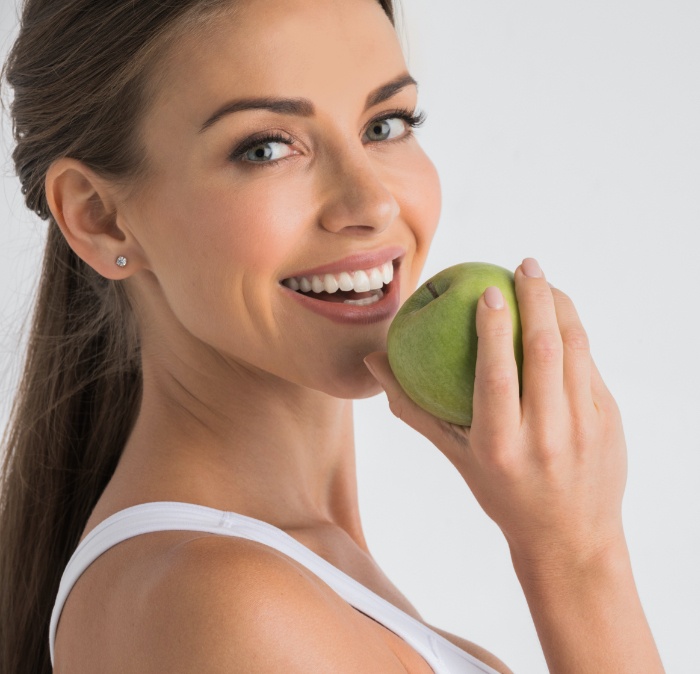 There are countless benefits that dental implants have to offer, and here are a few:
Prevention of jawbone deterioration
Preservation of facial structure
Natural looking and feeling replacement teeth
Enhanced chewing power
No slipping and shifting restorations
Ability to last over 35 years with proper maintenance
Easy to maintain
Can replace one, several, or all teeth
Custom-tailored treatment from beginning to end
Who Can Dental Implants Help?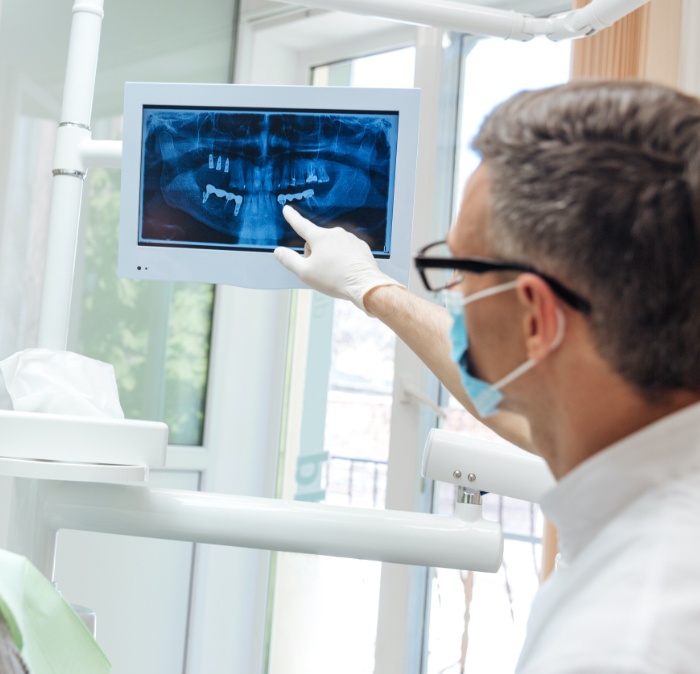 If you're missing one, two, several, or all of your teeth, dental implants may be able to help restore your smile and improve your oral health down the road. However, for some patients, their best restorative option may be traditional bridges or dentures. To learn what the best option for your unique needs is, we welcome you to visit our dental office so we can examine your mouth and development a treatment plan.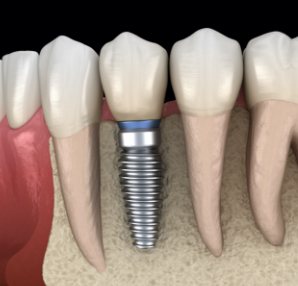 Missing One Tooth
If you're missing a single tooth, we can place one dental implant in the space below your gums to restore the root structure of your missing tooth. Once it fuses with your jawbone, we'll attach a small, metal connector piece called an abutment. This will secure your customized dental crown that will restore your smile.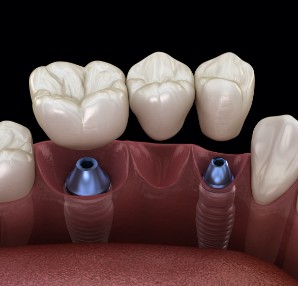 Missing Multiple Teeth
Instead of having to alter your natural teeth by placing a dental bridge, we can secure a bridge to two dental implants that are placed at either end of the gap in your smile. One the prosthetic is placed, it will keep your surrounding teeth from drifting out of place and make basic tasks like eating and speaking much easier.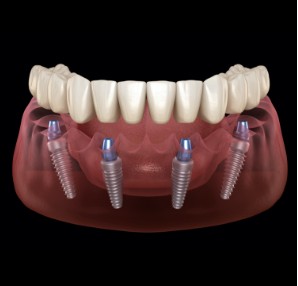 Missing All of Your Teeth
If you're missing all of your teeth, we can attach a full denture to anywhere from four to eight implants that are strategically placed throughout your gumline. This will eliminate any slipping or shifting that may occur when you chew food or speak, helping you avoid awkward moments and giving you more confidence.
Understanding the Cost of Dental Implants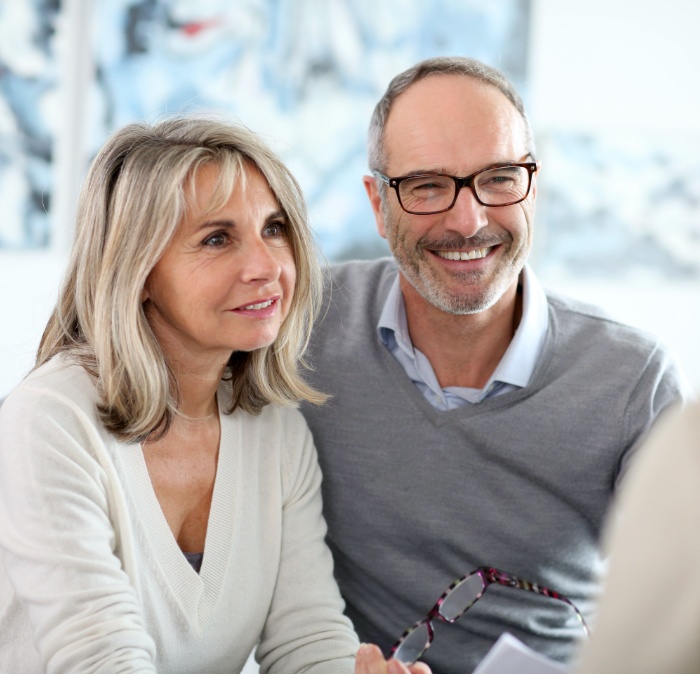 The cost of your dental implant procedure depends on a variety of factors that we'll determine once we have a chance to examine your smile at your initial consultation. Because the treatment is custom-tailored to meet your needs from beginning-to-end, the price tag for treatments varies greatly between patients. For example, a person who just needs to replace one tooth with a single dental implant will have a less-costly treatment than somebody who needs to restore an entire arch of teeth. We'll walk you through the cost of your treatment during your consultation.
Maintaining & Caring for Your Dental Implants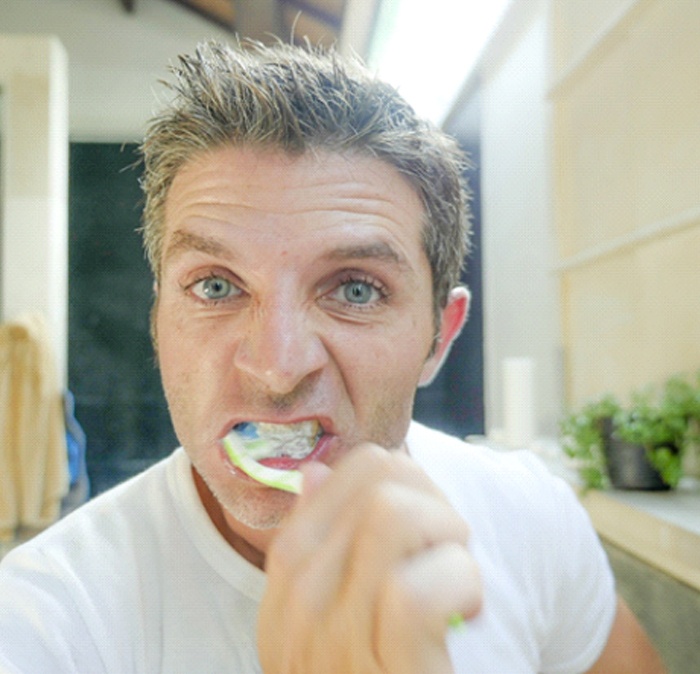 Dental implants can last upwards of 30 years and even the rest of your life, but it's essential that you take all of the right steps to care for them. If you aren't taking the time to protect your dental implants from damage, they could end up failing and needing to be replaced. The good news is that a few simple precautions and healthy habits can help you to enjoy your new smile for many years to come.
Make Oral Hygiene a Priority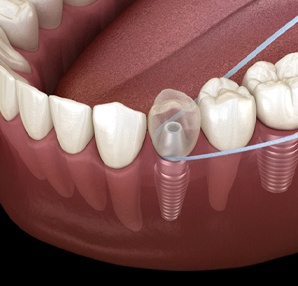 While dental implants cannot get cavities themselves, you still need to practice excellent oral hygiene. In addition to keeping your surrounding teeth healthy, sticking to a great dental hygiene routine can prevent other dental problems, including gum disease, that can cause your implants to fail. Remember to brush twice, floss, and rinse with mouthwash every day. Always use a soft-bristled toothbrush and fluoridated toothpaste.
Eat a Healthy Diet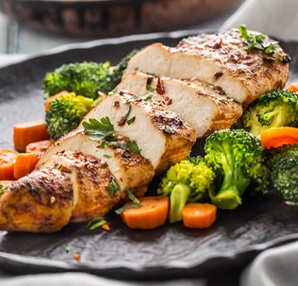 One of the great things about dental implants is that you don't have any eating restrictions. This means that you can easily enjoy a full, nutritious meal without too much trouble. Just remember that enjoying an abundance of foods that are hard, sticky, or sugary can be problematic. Remember to eat foods with plenty of calcium and vitamin C to keep your jawbone and gums healthy.
Break Bad Habits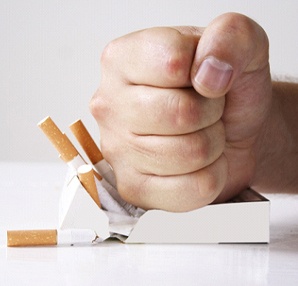 Bad habits can cause your dental implants to fail over time. Don't smoke or use tobacco products immediately after your procedure, as they can slow down healing and increase your risk of infection. Don't use your teeth as tools either, as you could accidentally damage your implant or a surrounding tooth. Instead, find a tool that can help you to complete your task safely.
Protect Your Dental Implants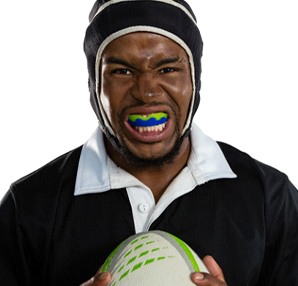 Your dental implants are very strong, but they aren't completely indestructible. Make sure that you always wear a mouthguard to protect your dental implants during sports. If you grind your teeth at night, ask about a nightguard to protect your dental implant from additional wear and tear.
Schedule Regular Dental Checkups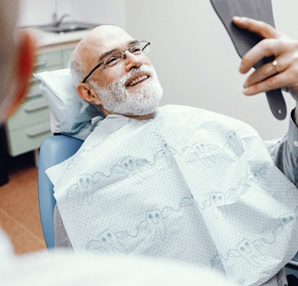 Remember to always attend your regular cleanings and checkups every six months. This way, we can monitor your dental implant and spot any issues as early as possible. By catching potential problems early on, you can prevent them from becoming more serious and leading to greater consequences, like a failed dental implant.
Dental Implant FAQs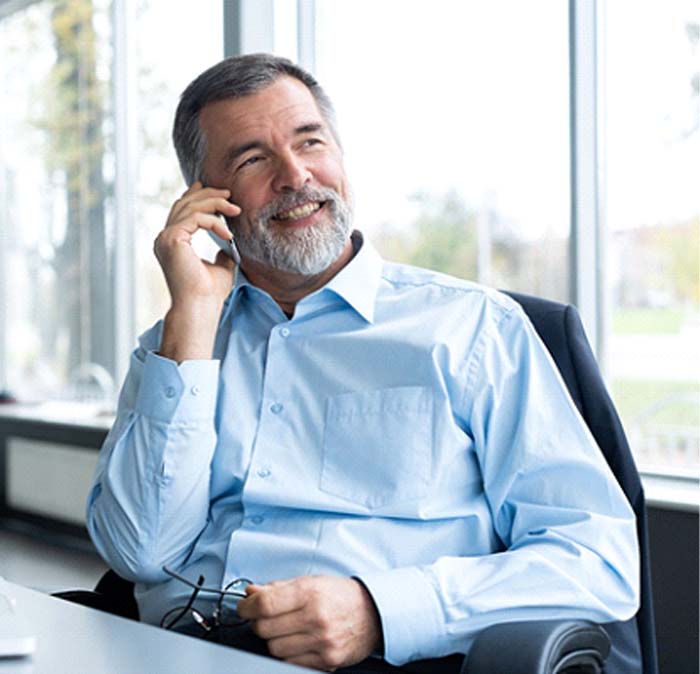 It doesn't matter if you've been researching dental implants for a while or learning about them for the first time, it's likely you'll have a question or two that a dentist can help answer! At Downtown Houston Dental, there's no exception. Dr. Johnson and his team want you to feel as informed as possible ahead of your dental implant treatment. If you have any questions, we encourage you to take a look at our FAQ below. This includes detailed answers for your convenience.
How Successful Are Dental Implants?
When dental implants are placed by a professional (like the skilled oral surgeons we partner with), you can expect your success rate to be as high as 95%. Of course, the initial surgery is not the only factor to influence your success rate. For example, your habits outside of the office (i.e. how well you take care of them through oral hygiene and routine checkups) as well as your diet can all impact the longevity of your tooth replacement. It also depends on which tooth is being replaced. While dental implants were designed to replace molars, these teeth also receive the most strain from daily chewing. This can make them more likely to fail, even if the chances of this occurring are extremely low.
Will People Be Able to Tell That I Have Dental Implants?
After capturing detailed impressions of your mouth, we'll use them to create a restoration that is fully personalized to your needs. Once the restorations are designed, fabricated and placed, no one should be able to tell that you received dental implants (that is, unless you tell them). Implants sit inside of the jaw like natural tooth roots, so you won't need to hold your jaw in a specific way just so they remain in place. This is one of the many ways they differentiate from dentures.
Do Dental Implants Feel Natural?
Once your dental implants are placed and have fully healed, they should feel almost identical to the roots of your original teeth. Since the implants don't have any nerve endings, you shouldn't experience any sensations in that area. If you do notice sensations when your mouth is exposed to hot or cold stimuli as well as pressure, it's actually your gums that are experiencing them, not your implants.
How Soon After a Tooth Extraction Can I Get Dental Implants?
If the jawbone tissue is strong enough, you may be able to receive a dental implant right after your extraction (meaning the same day it's performed). However, it's not uncommon for oral surgeons to recommend that you wait anywhere between three and six months for the mouth to heal. If you wait any longer than that, however, the bone inside the jaw can begin to shrink because it's not being properly stimulated by the tooth roots. At the end of the day, it really depends on the condition your mouth is in ahead of surgery.