Cosmetic Dentistry – Houston, TX
Create a Smile That You Feel Proud Of
Whether your confidence is affected by a small chip out of one of your front teeth or crooked and unevenly spaced teeth, Dr. Johnson and our team at Downtown Houston Dental offer a wide array of customized cosmetic treatments to help improve the appearance of your smile. It's often the first trait that people notice about you, and letting it shine can be the best way to make an excellent first impression. With our wide array of cosmetic treatments, you can make sure that your smile is memorable and confidence-boosting thanks to cosmetic dentistry in Houston, TX.
Why Choose Downtown Houston Dental for Cosmetic Dentistry?
Convenient, Safe, & Effective Teeth Whitening
Reachable by the Underground Tunnel System
Schedule An Appointment Before Work at 7am
Porcelain Veneers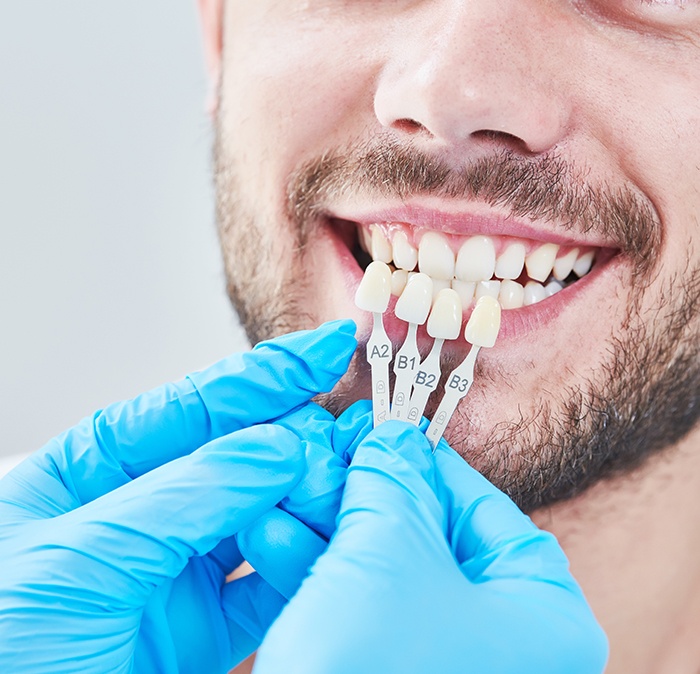 For patients who face several different types of smile imperfections, like chipped teeth, unevenly spaced teeth, and even slight misalignment, veneers are a convenient, one-stop-shop to enhance the appearance of your smile without needing several different treatments. They can be made from porcelain or ceramic and are thin, durable shells that are customized to fit over the visible surface of individual teeth to conceal flaws. Once they're placed, they'll continue enhancing your smile's appearance for up to 25 years with proper care.
Metal-Free Dental Restorations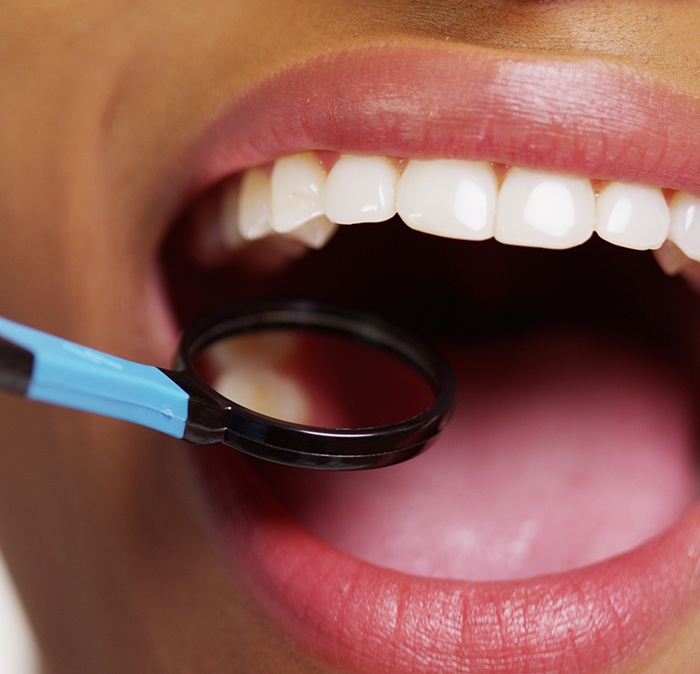 In the past, dentists would use metal compounds to repair and replace teeth. Since metal isn't biocompatible, it would require more of your natural tooth structure to be removed and could result in gum and tooth discoloration and dental sensitivity. Dr. Johnson uses BruxZir solid zirconia and EMAX all-ceramic to create crowns that are safe for your mouth, natural-looking, and provide effective and trustworthy protection.
Dental Bonding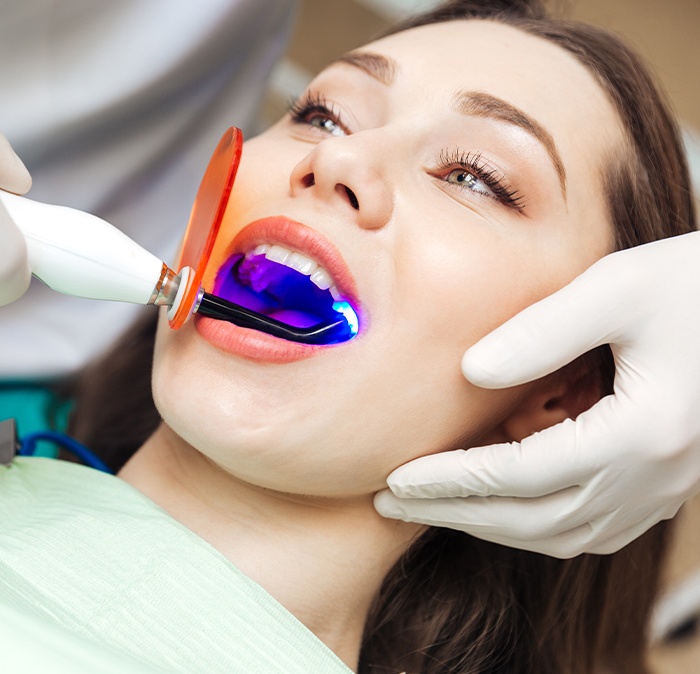 Direct bonding is a cost-effective and fast method of restoring broken teeth. Using biocompatible composite resin, Dr. Johnson can rebuild the missing structure of your teeth. Since it's similar to a putty, he can shape and texturize the resin to be virtually indistinguishable from your tooth enamel. Once it's cured and hardened, direct bonding will stay on your tooth for up to a few years with the proper care. Just be careful while flossing to make sure that it doesn't snag on the bonded portion of your tooth and accidentally yank it off!
Invisalign Clear Braces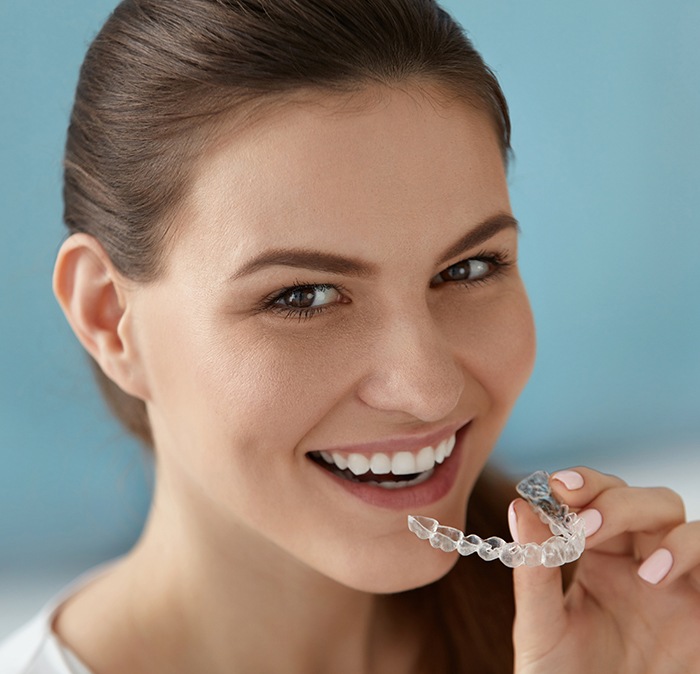 Do you require orthodontic treatment but don't want to commit to wearing metal brackets and wires for years? We have the perfect alternative for you, and it's called Invisalign clear braces. Using customized, clear trays, we can discreetly and quickly align your teeth, all while allowing you to maintain your professional image. The average treatment takes between eight and 14 months and depends on the severity of your orthodontic problems. Schedule a consultation with our team today to learn how Invisalign can help you!
Teeth Whitening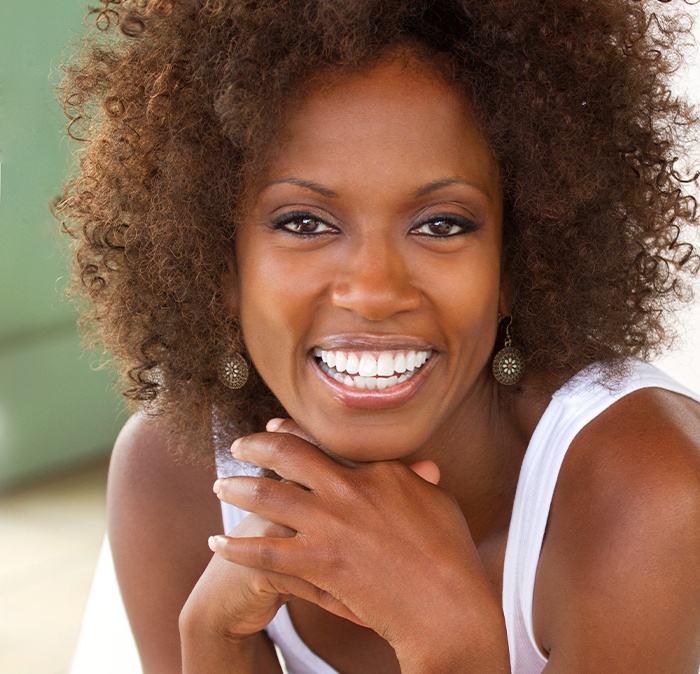 Dental discoloration can occur for a variety of reasons, including poor oral hygiene, a natural effect of aging, consuming certain foods and drinks that are high in tannins, and even taking certain medications. No matter why your teeth look more yellow than you'd like them to, we offer highly effective, trusted, and clinically-tested Zoom! take-home and in-office teeth whitening that can help. Each treatment is customized to provide you with your ideal whitening results. That way, you can stop wasting money on unreliable and pricey over-the-counter kits that never deliver the noticeable results that they promise on the packaging.